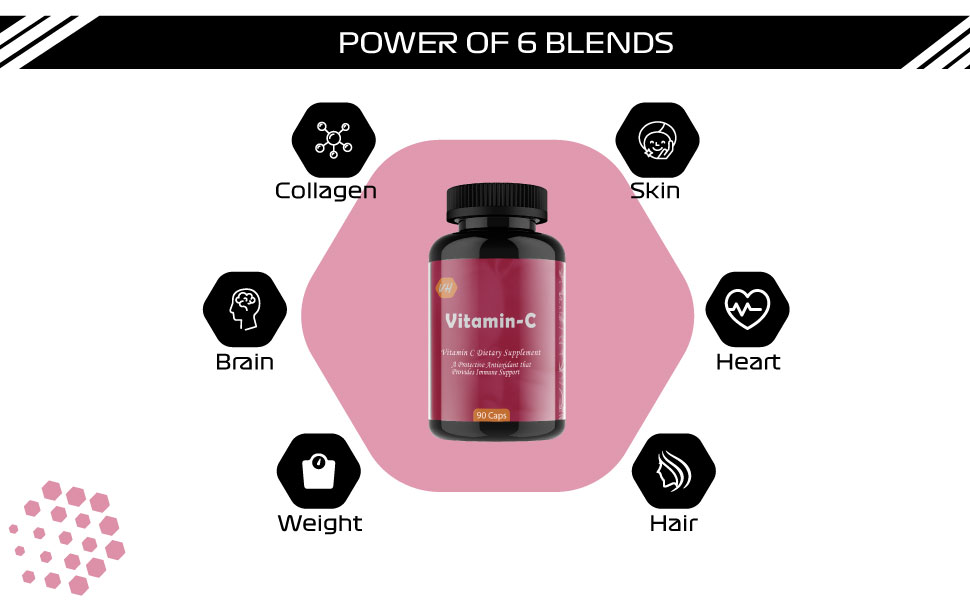 Description Science-Based Nutrition Dietary Supplement Helps Promote a Healthy Immune Response Vegan Non-GMO Gluten Free Soy Free VITAMINHAAT Vitamin C which is manufactured in India. Vitamin C is indispensable to the body for its role in synthesis of collagen, carnitine, and certain brain chemical transmitters. Abundant clinical research confirms Vitamin C's fundamental support for the brain, eyes, heart and circulation, immune system, and all organ systems. Helps the body's antioxidant defenses Essential cofactor for important enzyme systems Helps promote healthy immune response Essential for joints and other connective tissues Suggested Use Take 1 capsule daily, preferably without food. Higher intakes may be useful. Additional Features:- SUPPLEMENT FACTS: Vitaminhaat Vitamin C is imperative to overall health and well-being. It does not contain any artificial flavors, colors, or preservatives, and is soy-free, GMO-free, sugar-free, gluten-free, yeast-free and dairy-free.
Why take VitaminHaat Natural Vitamin C capsules ?
NATURAL VITAMIN C: Plant Based Wellness Support Formula. Advanced formulation of Vitamin C from organic sources in capsule form to boost your vitamin intake conveniently. Supports Immune System Supports a Healthy Heart ? Aids in Digestion ? Supports Iron Absorption ? Supports Brain Health ? Improves Hair, Nail Skin Health What makes VitaminHaat Natural Vitamin C different from others? Vitamin C is completely derived from organic sources ? Vegan, Soy Free, Dairy Free.
VitaminHaat Vitamin C
Rich in Antioxidants for Immune Health
Vitamin C is a water-soluble nutrient well known for its vital role in the immune system. Vitamin C is also necessary for the production of collagen (a structural protein in connective tissue) and is therefore important for skin, bone, and joint health. VitaminHaat Vitamin C Natural Amla Extract and Orange peel extract is a perfect solution for your anti-oxidant needs and immunity blips. It gives you the optimal dose of Vitamin C along with the goodness of natural plant extracts
·       Helps promote immune response
·       Important for Skin, Bone, and Joint Health
·       Supports Cardiovascular system
·       Natural Vegetarian Product
·       Powerful Antioxidant
·       Helps Fight Free Radicals
·       Essential for Joints and other connective tissue
·       Supports brains, eyes, circulation and all organ system