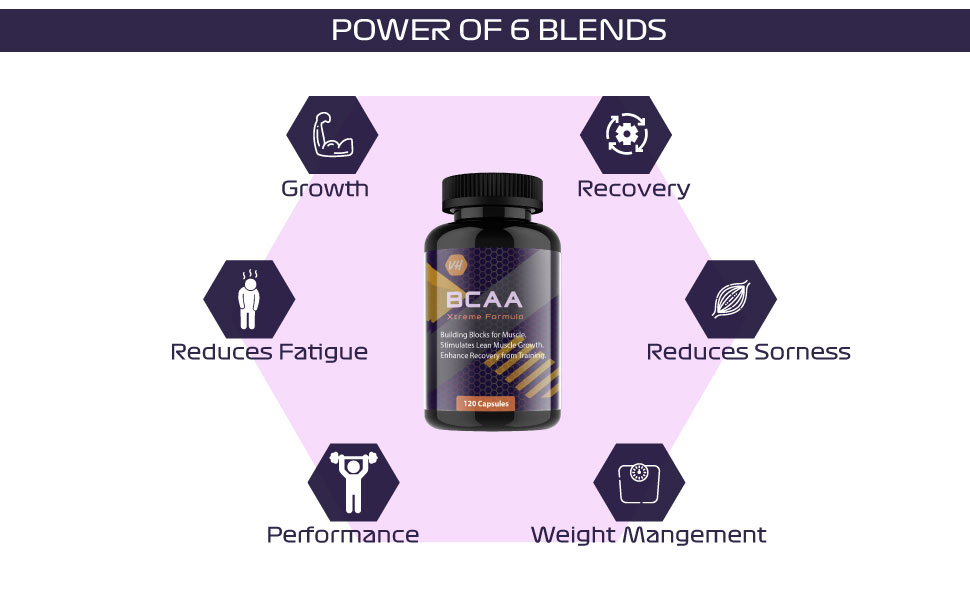 BCAA supplements have long time been the star player in the supplement genre to boost your endurance and improve your overall performance whether taken in the form of powder or capsule. VitaminHaat BCAA capsule is a potent formula engineered with the optimal dosage of leucine, isoleucine and valine in the ratio 2:1:1. The highest quality supplement contains no fillers, binders or preservatives.
VitaminHaat BCAA 2000mg per serving, 30 Servings | 120 Capsules| Reduces Fatigue & Boosts Muscle Growth | Zero Fillers | Lab-Tested
BCAA offers huge benefits of muscle growth and recovery. BCAA supplementation is one of the best ways to prevent muscle breakdown and to quickly recover from the muscle damage that occurs during the workout. So, you can kick start a powerful workout.
The potential benefits of the capsule version of BCAA:
Very handy, quickly and readily absorbed.
Rapid absorption and delivery to the muscles.
Zero mixings, less water requirement.
Easier to control and measure your intake.asy to swallow and highly transportable.
Capsules hide the bitter taste in them.
An easy way to make the most of your workout.
A BENEFICIAL ADDITION TO YOUR NUTRITION STRATEGY
Although BCAAs are found in some foods, when you are following a hard training or cutting calories, it can get difficult to make sure you get enough BCAA regularly. This is where BCAA supplements come to help. BCAA supplements are a good choice, particularly for vegetarians and vegan, for those who do not eat a lot of protein-rich food and for those who feel they can't eat much especially before or after the workout.
THE FAST ACTING BCAA
The quick entry of BCAAs into the bloodstream gives you the advantage to get the fastest source of energy required to boost your exercise. The more BCAAs in the muscles means the more they'll be used for energy to boost performance which directly leads to increased muscle mass.
BCAA CAPSULES ARE THE COMPREHENSIVE SUPPLEMENT
The unflavoured BCAA supplement claims to have no calories, no sugar and no carbohydrates, making it pure and clean recovery supplement. The most common way to consume BCAA supplement though is in the form of powder, some of the people who may not find its natural bitter tasting profile desirable will like the capsule version over powders for the obvious benefit of convenience.
IT'S CRUCIAL TO REPLENISH YOUR MUSCLES POST-WORKOUT
BCAA supplement minimizes muscle damage and reduces muscle soreness.
Significantly delays the onset of fatigue and speed up recovery.
Helps improve body composition and overall gains with exercise.
Helps increase oxidation of fatty acids, while maintaining lean muscles.
Accelerates your workout, increase nitrogen retention and protein synthesis.
Vitaminhaat BCAA Supplement helps to boost muscle growth and it can also help with weight loss
Vitaminhaat BCAA, you can be rest assured of great quality and high-end ingredients to support all your bodybuilding requirements. Among their premium range of nutritional supplements are Vitaminhaat BCAA's that gives you several health benefits which includes:
Vitaminhaat BCAA supplementation before your workout can help increase rates of protein synthesis, suppresses muscle protein breakdown, reduces markers of muscle damage, and decreases the symptoms of delayed onset of muscle soreness.
Improved Muscle Size Mass and Strength: Branched-chain amino acids (BCAA) can help promote protein synthesis, leading to muscle growth, in several different pathways.
When we ingest most of the amino acids, they're absorbed in the intestines and travels straight to the liver. The liver then decides what to do with them before they are distributed to the rest of the body. If the body needs more energy, the liver may even break them down for fuel rather than spare them to repair and build muscle and other tissue.
However, BCAAs, on the other hand, tend to be left untouched by the liver and gets directed to access tissues like muscle. The muscle fibre's then get to make the decision of what to do with these amino acid based on their demands. One of these demands could very well be to build up addition of muscle tissue, after strenuous work-out.
In terms of protein synthesis, leucine is by far the most valuable of the three BCAAs for stimulating muscle growth. Scientifically leucine activates a complex synthesis process called mTOR, which accelerates up protein synthesis, and therefore muscle tissue growth.