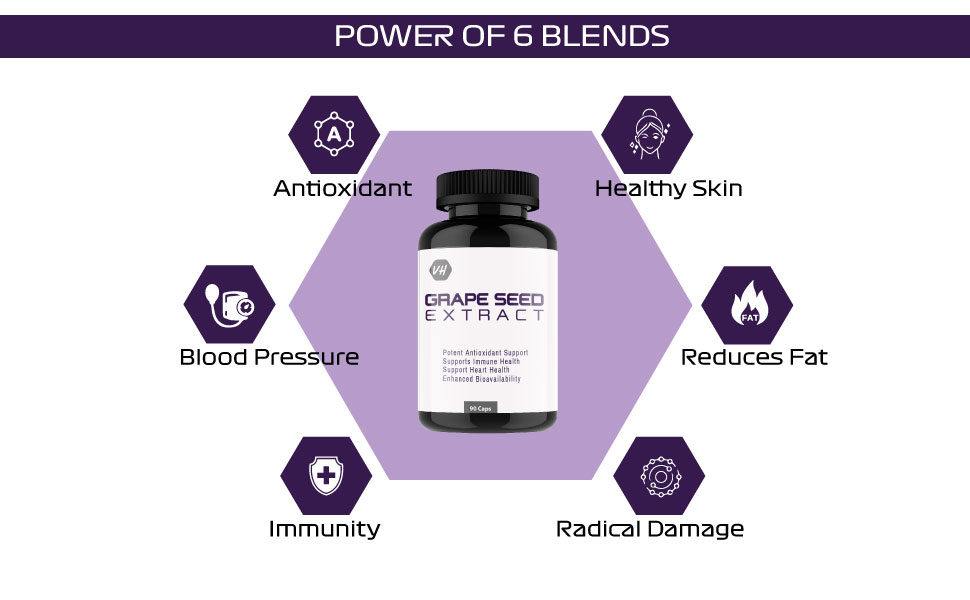 An antioxidant rich Grape Seed Extract is linked a wide range of benefits. Grape seed extract is a mixture of flavonoids, linoleic acid, Vitamin E and phenolic procyanindins. Grape Seed has high antioxidant content to help protect from oxidative stress, inflammation, can improve blood flow, protect blood vessels and helps to reduce cholesterol. It prevents cognitive decline, promotes healthy skin health, boost immunity and support overall well-being. Grape Seed extract also helps in boosting your immune system.
VitaminHaat Grape Seed has potent antioxidant activity and therefore assist in protecting the body from damaging effects of free radicals and oxidative stress. 
Excellent Detoxification – Grape Seed supplement eliminates toxins from your body and helps to maintaining a healthy body.
Improves Digestion – Grape Seed can help in absorption of nutrients and can prevent acid formation in stomach.
Grape seed is known to stimulate Vitamin C in the body. This helps to strengthen the overall immunity and make your body healthy from within. Vitaminhaat grape seed extract supplements are also high in antioxidant content and works well to cleanse the system thereby promoting healthy skin and hair.
Antioxidant & System Cleanser – Toxins and free radical cells slow down the system and make you unhealthy and prone to health problems. Regular consumption of Vitaminhaat grapeseed extract capsules purify your system thereby working as a natural antioxidant that keeps your system clean. It may also help in blood purification. Grapes seed powder is an amazing system cleanser.
Metabolism Enhancer – This grapeseed extract supplementworks as a natural metabolism enhancer which helps in promoting a healthier digestive system. Regular consumption of this metabolism support grapeseed extract capsule may help to boost metabolism levels thereby providing relief to digestive problems and maintaining a healthy gut. Healthy metabolism helps with effective weight management and it helps you stay active and energetic all day.
Youthful Skin & Strong Glowing Hair– Vitaminhaat grapeseed extract capsules are amazing for good skin and hair quality. They help in collagen formation which may enhance the elasticity of your skin thereby extending its youthful look. This supplement also has anti-inflammatory properties which may reduce multiple skin and hair problems thereby promoting healthier, softer and glowing skin and hair.
Dosage For Vitaminhaat Grape Seed Capsules – It is highly recommended to take these immunity wellness capsules twice daily 30 minutes before your meals. These general wellness Antioxidant Supplement are natural and organic in nature and are not known to have any side effects thereby making it an effective and safe choice for the long-term. Whether you are looking for a strong antioxidant or supplement that can help lower LDL levels or simply for good skin and hair, these Vitaminhaat grapeseed capsules have it all.