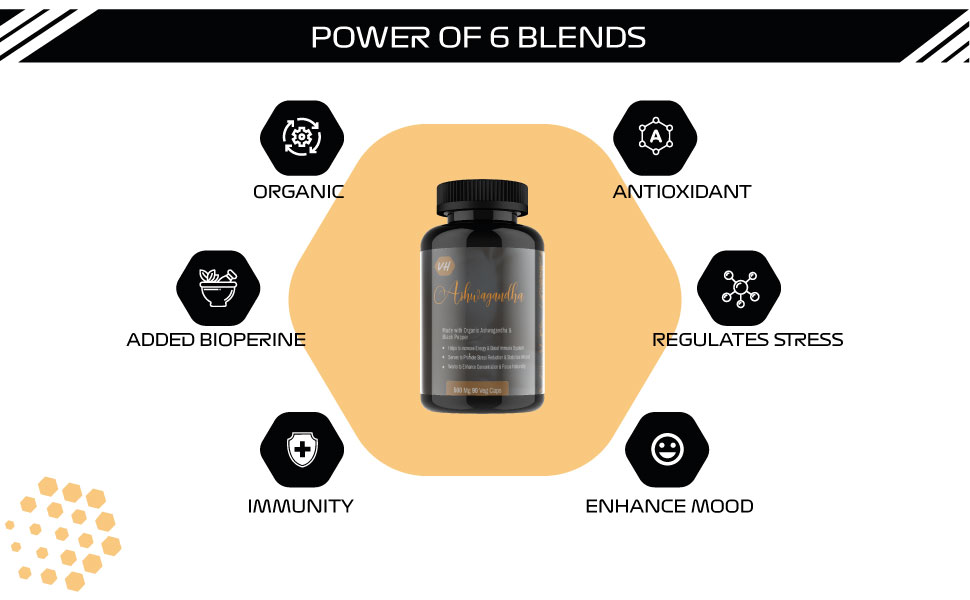 STRESS & ANXIETY BUSTER :
Feeling worn down by stress? Can't help but feel anxious? Depression is the biggest concern now-a-days. It's been a whole year, the world is fighting against the pandemic. Our organic ashwagandha capsules are here to provide you with quick and reliable relief to depression anxiety and stress ! Ashwagandha extracts are clinically proven to help blow away stress, reduce the effects of anxiety and also acts as a natural depression treatment to help make sure you stay relaxed, calm and happy. Ashwagandha helps to reduce physical and mental stress. Ashwagandha works to lower the cortisol levels , the primary stress hormones. Ashwagandha is considered to be a safe dietary supplement for stress management. Ashwagandha is often helpful in boosting your immunity.
ORGANIC & HIGH POTENCY:
Our ashwagandha supplements are made using extract that is drawn directly from ashwagandha roots to bring us an organic supplement that will provide you the support you need to live a healthy and happy life. With 500 mg of Ashwagandha Extract per serving standardized to 5.0% Withanolides, (HPLC-grade) these premium organic root powder capsules will help us live a stress and anxiety free life.
ENHANCE YOUR MOOD:
Feeling exhausted, tired or just feel fatigued? Ashwagandha root powder supplements aren't just incredibly effective anxiety pills but also help you relax and stay alert which is important to make sure your mind is in its ideal state. Our organic root extract capsules helps you optimize your energy and mind to improve your mood and beat exhaustion effectively.
POWERFUL ANTIOXIDANT -STAY YOUNG FOR LONGER:
Besides having powerful anxiety and stress relieving properties, it also helps protect the body against harmful free radicals that damage the cells to help you maintain your youth for longer. Since it's a powerful natural antioxidant, it also helps support the immune system so that you look and feel young.
Vegetarian capsules to make it easy to access the health benefits of the Ashwagandha root extract.
ADDED PIPERINE TO BOOST BIOAVAILABILITY :
To ensure that you're absorbing the ashwagandha as possible, we've added black pepper extract, increasing bioavailability and absorption.
FULL SPECTRUM:
To bring to you the highest quality product, we've taken steps to ensure that the ashwagandha that we encapsulate is as close to the makeup of the actual root itself, leading to all parts of the root working together to bring you a better experience.
REGULATES STRESS, ANXIETY & IMMUNITY LEVELS:
Ashwagandha coupled with Piperine can assist in the regulation of healthy stress levels, anxiety, and your immune system.
Important information
Safety Warning
As with any dietary or herbal supplement, you should advise your health care practitioner of the use of this product. If you are nursing, pregnant, or considering pregnancy, you should consult your health care practitioner prior to using this product. Keep out of reach of children.
Legal Disclaimer
These statements have not been evaluated by the Food and Drug Administration. This product is not intended to diagnose, treat, cure or prevent any disease. ** Always refer to the manufacturer's label on the product for description, recommended dose and precautions.
Statements regarding dietary supplements have not been evaluated by the FDA and are not intended to diagnose, treat, cure, or prevent any disease or health condition.