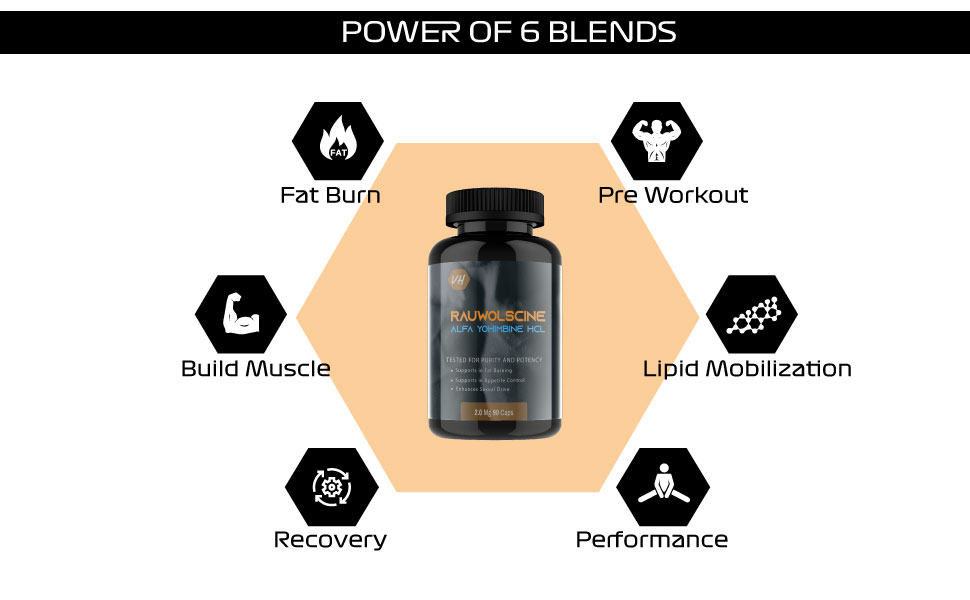 VitaminHaat – Alpha Yohimbine 2.0 MG Capsules - 90 Capsules
VitaminHaat Yohimbine each capsule provides 2.0 mg of pure Alpha Yohimbine (Pharmaceutical & USP Grade) which is one of the best fat loss supplement that are proven to accelerate fat burning, it can speed up your metabolism, improve your workout performance, and help you lose stubborn fat faster. VitaminHaat Yohimbine's main property of interest for stubborn fat burning is that it's an alpha-2-receptor antagonist. Fat cells have different receptors that control it. VitaminHaat Yohimbine is an alpha-2-receptor antagonist (a2-blocker), which causes your body to increase noradrenaline production. it activates the sympathetic 'fight-or-flight' nervous system and increases your energy expenditure, Yohimbine affects different receptors, which gives yohimbine a few unique properties.VitaminHaat Yohimbine is manufactured in USA based GMP certified facility in it's purest form and derived from vegetarian source and well tested in lab for purity and potency.
Supports Weight loss
Consumption of capsules supports fat burning and manages appetite that further leads to maintain a healthy weight. Yohimbine fast-acting fat-burning mechanism leads to increased energy output required to boost your performance and thereby helps to build muscles faster. The innate properties of Yohimbine may help manage the metabolism process in the body. It effectively works in converting carbs into energy that also supports weight management.
Improves Athletic performance
The ingredients of the capsules help in improving the overall energy level, keeping you active all day. VitaminHaat Yohimbine capsules help in sports and exercise performance. It assists in exercise recovery, improves the supply of oxygen to the blood, and supports muscle soreness after exercise. Yohimbine is the one of the most sought-after supplements when it comes to boosting athletic performance. It eventually leads to improved performance at the gym.
Improves lean muscle mass
The active formula in the capsules supports managing and improving lean muscle mass. Yohimbine is most widely recognized in the fitness industry for its performance enhancing and fat burning qualities. VitaminHaat Yohimbine capsules are high-quality vegetarian, easy to swallow dietary supplement that is suitable for both men and women.