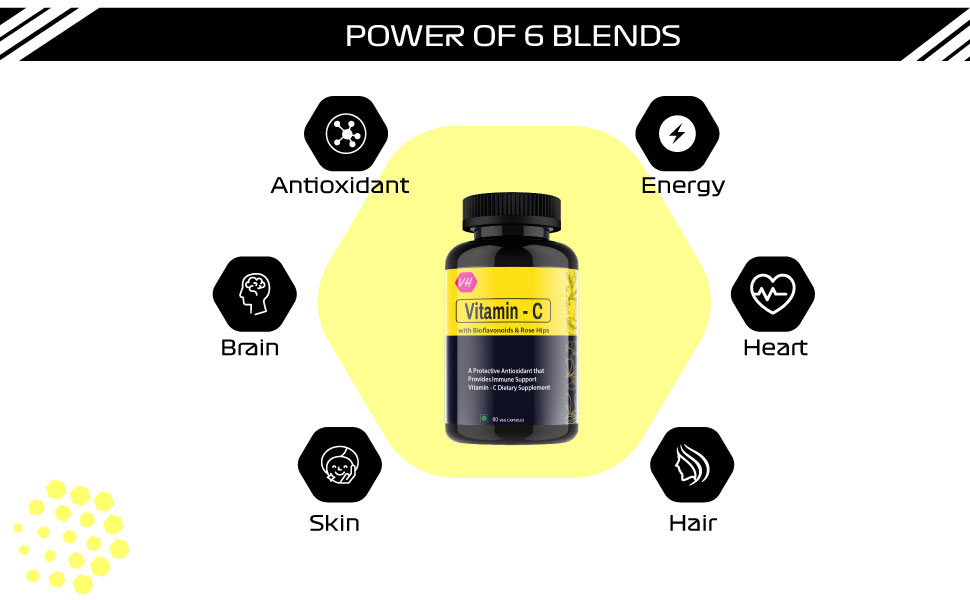 MAXIMUM STRENGTH: VitaminHaat VITAMIN C fortified with Citrus Bioflavonoids and Rose-hip Extracts.
Dietary Supplements are an affordable and effective way to ensure you and your loved ones are getting the daily recommended intake of essential vitamins, minerals and other important nutrients necessary for optimal health.
VitaminHaat Vitamin C maximum strength formula contains 1000mg of Vitamin C,Rose Hips extractswith Bioflavonoids Capsules per serving, and 60 vegetable capsules in each bottle for a full 60 day supply. Our proprietary complex utilizes Bio-absorption technology to ensure superior absorption and bioavailability.
Our potent formula utilizes the Natural Bioflavonoids & Rose Hipextracts to helping the body more effectively absorb the vitamin C in our complex. The Non-GMO ingredients in our formula is crucial to ensure superior absorption and bioavailability into the body, into the bloodstream, and at the cellular level.
Vitaminhaat Vitamin C tablets has Powerful Antioxidant Properties, Supports Brain Health & Cognitive Function , Helps Improve Mood & Lessen Anxiety , Supports Cardiovascular & Heart Health, Supports Healthy Energy Levels,Protect Skin & Hair, Promotes Glowing Skin, Help in keeping Healthy Hair.
VitaminHaat Natural Vitamin C with Bioflavonoid and Rose Hips capsules ?
NATURAL VITAMIN C: Plant Based Wellness Support Formula. Advanced formulation of Vitamin C from organic sources in capsule form to boost your vitamin intake conveniently. Supports Immune System Supports a Healthy Heart ? Supports Iron Absorption ? Supports Brain Health ? Improves Hair, Nail Skin HealthWhat makes VitaminHaat Natural Vitamin C different from others? Vitamin C is completely derived from organic sources ? Vegan, Soy Free, Dairy Free.
VitaminHaat Vitamin C with Bioflavonoid and Rose Hips 60 Capsules
Rich in Antioxidants for Immune Health Vitamin C with Bioflavonoid and Rose Hips is a water-soluble nutrient well known for its vital role in the immune system. Vitamin C is also necessary for the production of collagen (a structural protein in connective tissue) and is therefore important for skin, bone, and joint health. VitaminHaat Vitamin C Natural Amla Extract and Orange peel extract is a perfect solution for your anti-oxidant needs and immunity blips. It gives you the optimal dose of Vitamin C along with the goodness of natural plant extracts
Helps promote immune response
Important for Skin, Bone, and Joint Health
Supports Cardiovascular system
Natural Vegetarian Product
Powerful Antioxidant
Helps Fight Free Radicals
Essential for Joints and other connective tissue
Supports brains, eyes, circulation and all organ system