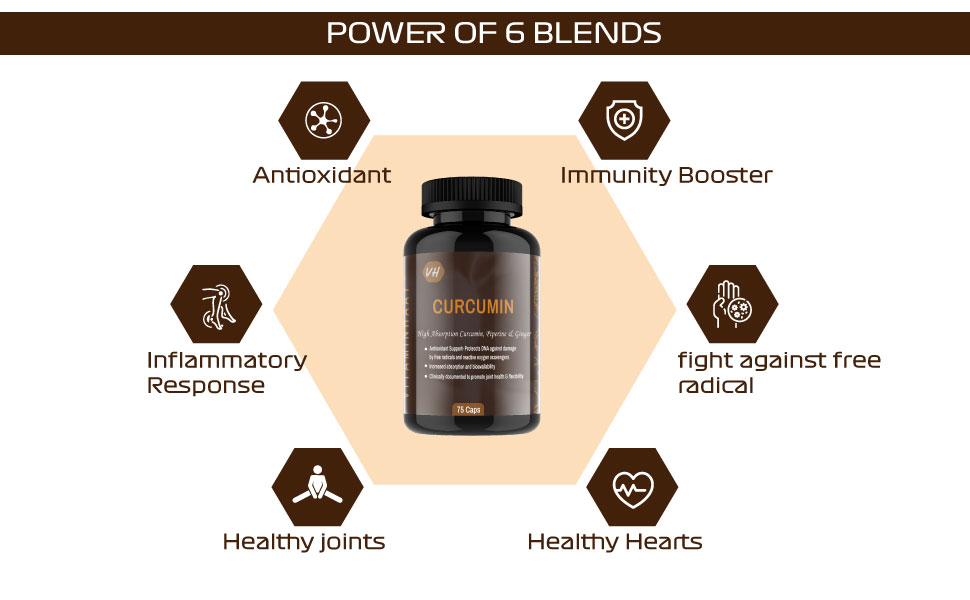 Vitaminhaat Curcumin 95% with piperine, Ginger capsules, the active ingredient in turmeric, contains a mixture of powerful phytonutrients known as cucuminoids. Curcumionds have antioxidant properties, meaning they fight the damaging effects of free radical molecules .
Curcumin capsules is extract of Turmeric (Curcuma longa). It is a perennial plant found in the ginger family. The dried and ground rootstock of this plant is the source of the orange-yellow turmeric spice commonly found in Indian and Middle Eastern cuisine, most notably curry. The active component of turmeric responsible for its rich color and potential health benefits is known as pure curcumin nutrition capsules.
Why Vitaminhaat Curcumin ?
100% extracted from Rizhomes to achieve highest Potency. Standardized to 3 bioactive curcuminoids (Curcumin, Demethoxycurcumin and Bisdemethoxycurcumin) Provides the highest level of bioactives in the market; >95% Curcuminoids. No Turmeric Powder.
Superior Absorption:
Vitaminhaat Extra Strength Turmeric Curcuimin complex has water dispersion technology which delivers superior absorption. Unlike regular turmeric which does not dissolve in water, dissolves poorly in fat and has poor absorption. Supported by Clinical Studies Lower Dose (beginning at 500mg / day); Lower Cost Non-GMO, Organic and Vegetarian With Piperine and nano particles for high absorption. Kosher, Halal and Organic certified. Highest Standardized Turmeric Curcuminoids Amount (500 mg ).