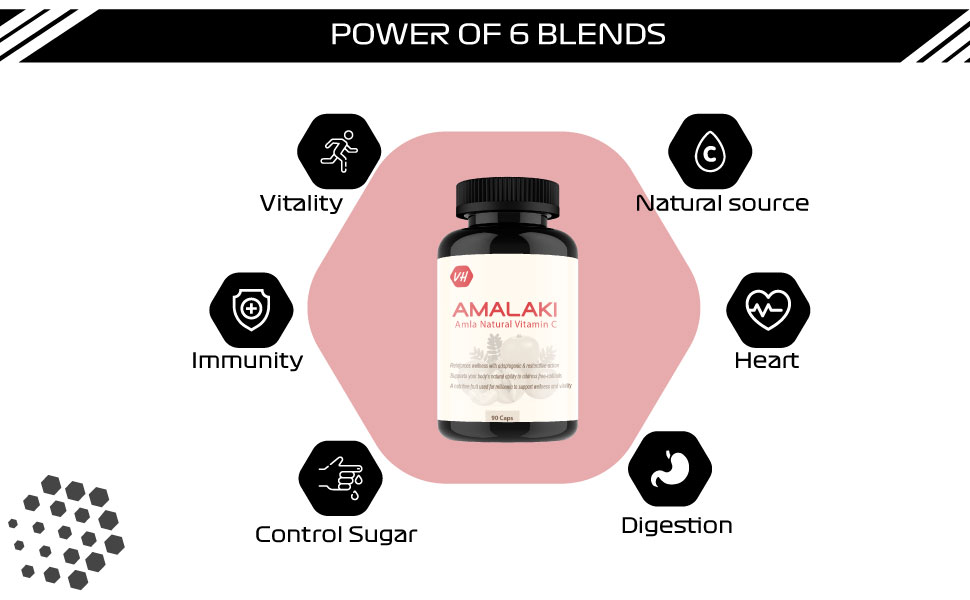 PREMIUM AMALAKI AMLA VITAMIN C CAPSULES :
Vitaminhaat' advanced extract of the highest quality, pure Amla Extract and not Amla Powder provides you with a safe and clinically effective dose of this Ayurveda herb (commonly known as Indian Gooseberry) for improved health and well-being. Amla helps you to boost immunity.
Amla is one of the highest natural sources of vitamin C.
HIGH IN VITAMIN C - Nature's super-fruit, amla fruit (Phyllanthus Emblica) is a nutrient-rich gift of nature, with one of the highest natural sources of vitamin. It's high in fiber, and polyphenols, and contains a good amount of vitamin A & E and minerals like calcium, phosphorus, iron, carotene, and vitamin B complex.
AMAZING BENEFITS: A rasayana in the ayurveda science and forms an important ingredient of many digestive formulations like Triphala and rejuvenating tonic Chyawanprash, an amla supplement is a potent antioxidant and overall restorative for the whole body. Amla capsules supports the immune system, promotes energy and vitality, and has been shown to support the management of blood-sugar levels and a healthy stress response. In Ayurveda, it balances all three doshas – Vata, Pitta and Kapha.
OTHER NAMES: Indian Gooseberries, as they are known locally, are also sometimes referred to or misspelled as emblica officinalis, emblic, emblic myrobalan, myrobalan, amalaki, amlaki, amal, alma, amla fruit, amala, gooseberry powder, or amla berry.
Vitaminhaat Amla (Amalaki)
High source of Natural Vitamin C
Potent Antioxidant
Supports immune system
Nourishes hair and skin
Support sight and eye health
Rejuvenator of the complete body
Supports healthy aging
Balances Vata, Pitta and Kapha