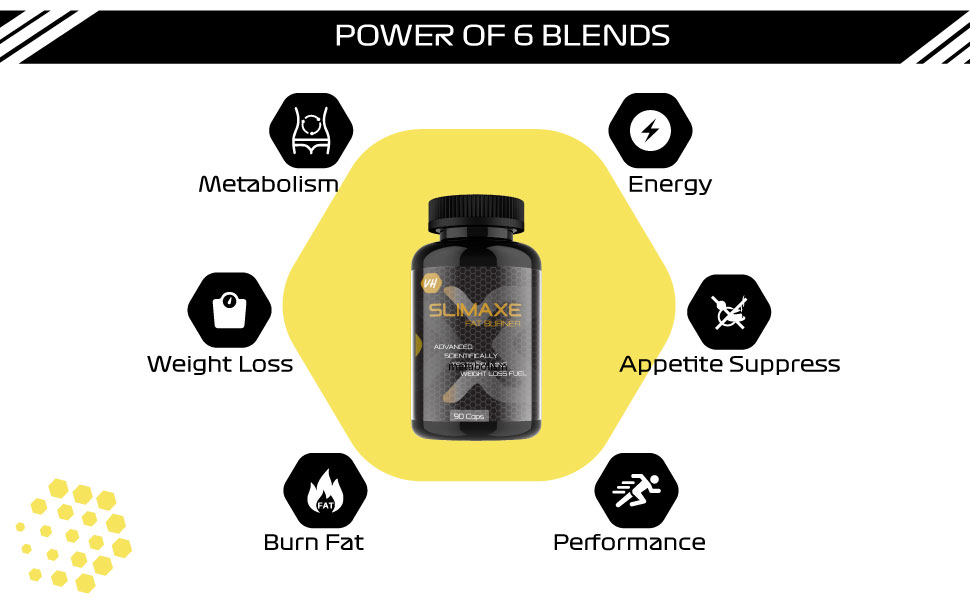 VitaminHaat Slimax:
An advanced weight management blend You might be sweating it out like crazies but still feel that you are not close enough to your fitness goal. Burning the stubborn fat required extra effort, a balanced diet, and a little push that VitaminHaat Slimax Burner can provide you. This potent weight loss formula is your best bet to get rid of the excess body fat and get in perfect shape. It is enriched with ingredients like green tea, green coffee beans, caffeine, Geen Tea, Garcinia Cambogia, coleus forskohlii, and chromium picolinate that help in suppressing appetite and boost metabolism to support healthy fat loss. With a faster metabolism, it's easier to convert all the deposited fat into energy units that can help you survive the gruelling workout sessions.
A blend of powerful ingredients VitaminHaat Slimax Burner has a blend of proven weight management ingredients ranging from Garcinia Combogia, Green Tea, Proanthocyanidin, Ginger Extract, Green Coffee Bean Extract, Cayenne Pepper, Coleus Forkohlii & Piperine and herbal extracts. What makes Slimax Burner an advanced formula is its selection of ingredients & its potency. To see results, these ingredients need to be consumed in effective quantities which is something you can easily obtain through VitaminHaat Slimax Burner. These ingredients will help suppress appetite, boost metabolism, support fat loss and keep your energy levels high.
VITAMINHAAT SLIMAXE - FAT BURNER
SLIMAXE - FAT BURNER is a Scientifically designed formula to achieve enhanced weight loss by boosting fat metabolism andcontrolling appetite.
The serving of Vitaminhaat Fat Burner serves a blend of scientifically proven natural ingredients, backed by modern science and ayurveda principles to maximize weight loss. The Powerful blend serves fat metabolising Garcinia,Coleus, Green Tea, Grape seed, Ginger, Caynene Pepper Extract and Piperine in each serving increases the Bio Availability of all Ingredients.
Vitaminhaat SLIMAXE Fat Burner with Garcinia Cambogia is an all - natural fat burner, which makes it safe to use.
This supplement contains GarniciaCambogia, Green Tea extracts, Grape seed extract, Caynene Pepper and Piperine which boost fat metabolism effectively.
There are no added stimulants such as caffeine in VitaminhaatSLIMAXE Fat Burner.
It works as an effective appetite suppressant to help manage an effective weight loss diet plan.
The unique blend of ingredients in VitaminhaatSLIMAXE Fat Burner with Garcinia Cambogia keep your energy levels high to help you train harder.
Vitaminhaat SLIMAXE Fat Burner with Coleus and Garcinia Cambogia, 90 Capsules
Mostly for all bodybuilders, making the right cuts in the physique more prominent means burning that last chunk of fat. This is only possible with a very strict diet program, but can be extremely time-consuming. If your goal is at getting a ripped physique in a short span of time or if you are trying to find a way to improve fat burning and metabolism, then you can try one of the several fat burning supplements available with some of the best Peak-performance supplement brands such as Vitaminhaat. One of the Peak fat burners, Vitaminhaat ensures great results and a safe option for anyone looking at weight loss and better fat metabolism.