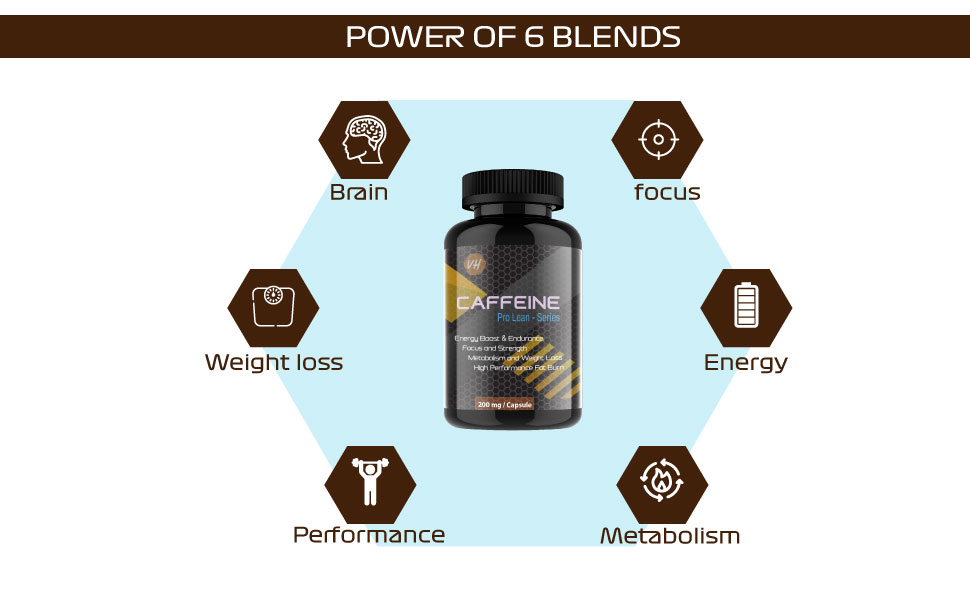 Vitaminhaat Caffeine is a 100% plant-based Caffeine to fuel your body with 200mg of caffeine per servings.
This caffeine helps trigger the brain to generate focus and strength in the body to withstand heavy-duty workouts
Being a natural stimulant, the caffeine in Vitaminhaat Caffeine acts as a natural stimulant and energy booster
It helps restore the concentration and mental awareness and can also be used to minimize the effects of headaches and migraine
It is beneficial for weight Management  also improves your metabolism.
Pro Lean Series 100% Caffeine is beneficial for weight loss and is a fat burner supplement
Directions For Caffeine:
Take 1 tablet every 3 to 4 hours up to a maximum of 1000 mg (5 tablets) in 24 hours.
Warnings:
For occasional use only. Caffeine is not advisable in cases of high blood pressure or pregnancy. Not intended as a substitute for sleep. The recommended dose of this product contains about as much caffeine as a large strong cup of coffee. Limit the amount of caffeine containing medications, beverages (coffee, tea, colas) or foods (chocolate) as too much caffeine may cause nervousness, irritability, sleeplessness and occasionally, rapid heart rate. Do not use if you are pregnant or nursing. Do not use if the safety seal is missing or broken. Store in a cool, dry place and keep out of direct sunlight. KEEP OUT OF THE REACH OF CHILDREN. Not for use by individuals under the age of 18 years.
* These statements have not been evaluated by the Food and Drug Administration. This product is not intended to diagnose, treat, cure, or prevent any disease.
Supports in Energy Boost & Endurance
Supports in Focus and Strength
Supports Metabolism and Weight Loss
Supports High Performance Fat Burn