Pro Lean Series 100% Caffeine - 100 Capsules
In-Stock
Tax included
Delivered 2 to 5 Working day
Vitaminhaat Caffeine is a 100% plant-based Caffeine to fuel your body with 200mg of caffeine per servings.
This caffeine helps trigger the brain to generate focus and strength in the body to withstand heavy-duty workouts
Being a natural stimulant, the caffeine in Vitaminhaat Caffeine acts as a natural stimulant and energy booster
It helps restore the concentration and mental awareness and can also be used to minimize the effects of headaches and migraine
It is beneficial for weight management
Vitaminhaat Caffeine is a 100% plant-based Caffeine to fuel your body with 200mg of caffeine per servings.
This caffeine helps trigger the brain to generate focus and strength in the body to withstand heavy-duty workouts
Being a natural stimulant, the caffeine in Vitaminhaat Caffeine acts as a natural stimulant and energy booster
It helps restore the concentration and mental awareness and can also be used to minimize the effects of headaches and migraine
It is beneficial for weight management
Directions For Caffeine:
Take 1 tablet every 3 to 4 hours up to a maximum of 1000 mg (5 tablets) in 24 hours.
Warnings:
For occasional use only. Caffeine is not advisable in cases of high blood pressure or pregnancy. Not intended as a substitute for sleep. The recommended dose of this product contains about as much caffeine as a large strong cup of coffee. Limit the amount of caffeine containing medications, beverages (coffee, tea, colas) or foods (chocolate) as too much caffeine may cause nervousness, irritability, sleeplessness and occasionally, rapid heart rate. Do not use if you are pregnant or nursing. Do not use if the safety seal is missing or broken. Store in a cool, dry place and keep out of direct sunlight. KEEP OUT OF THE REACH OF CHILDREN. Not for use by individuals under the age of 18 years.
* These statements have not been evaluated by the Food and Drug Administration. This product is not intended to diagnose, treat, cure, or prevent any disease.
Supports in Energy Boost & Endurance
Supports in Focus and Strength
Supports Metabolism and Weight Loss
Supports High Performance Fat Burn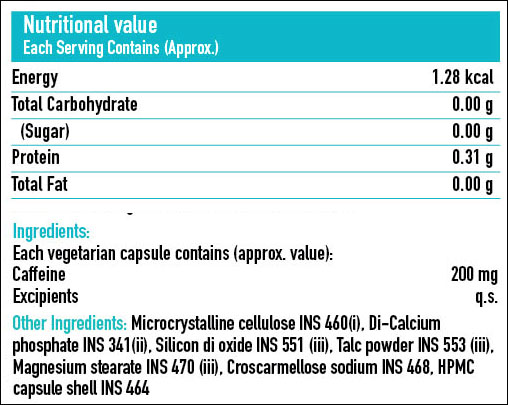 Let's Learn more about Caffeine
Boost Your Energy Levels
If you're looking for something to charge you up before you head to the gym for a workout session or you just feel like you're dragging your feet during the day, caffeine is a great choice for a immediate burst of energy.
Caffeine is a natural stimulant found in many things most people consume on a daily basis: coffee, tea, cold drinks and more. Caffeine takes effect on the central nervous system and different people may get a different levels of boost in energy.
Caffeine is not only great for quick energy burst, but it's also become a popular fat loss support supplement and workout performance booster. Caffeine is included in many thermogenic fat burners and pre-workout supplements.
THERMOGENIC BENEFITS OF CAFFEINE
When caffeine enters the body, it induces a fat-releasing effect called lipolysis, in which fat molecules within fat stores are cleaved into free fatty acids (FFAs) and glycerol. As a result, you have a bunch of liberated FFAs shooting around in your body that can be used to fuel your workout. Combining caffeine supplementation with a good training session, increases fatty acid oxidation and promotes fat burning!
Its Speed Up Calorie Burning
Whenever you need to get ready for a workout, caffeine is the perfect product which has stood up. Not only it is going to give you a quick thrust of energy, but it may also help to mobilize your metabolism and kick calorie burning to a higher level Caffeine is also linked to:
Mental clarity and Focus
Power and Strength
Whether it's few cups of black coffee before you head out to the gym, a pre-workout shake, or a serving of a thermogenic fat burner, caffeine is always there to support amazing workout performance and results.
How to Put Caffeine forPerformance?
You don't have to be a high level athlete to use caffeine as part of your pre-workout strategy. In fact, because of caffeine's many benefits, it's helpful to just about everyone. Caffeine is safe for men and women of all ages to use to support energy levels, focus and drive. No matter what your fitness goal is, your aim should always be to push yourself harder every time you're in the gym. Anyone who is looking for fat loss as their primary workout goal will really want to give caffeine a serious TRY, since it works with its triple benefits: supports energy, promotes normal appetite, and encourages fat burning.
How to Accelerate the PERFORMANCE
Caffeine comes in many forms, but is often included in pre-workout supplements and thermogenic fat burners. In order to get the best benefits from taking caffeine, aim to use it about 30 minutes before you hit the gym, or with breakfast to get that morning boost. A good dose to start off with is between 200 and 400mg daily.
Caffeine stimulates the CNS and you should always follow strict dosing directions listed on the product that you buy and use. It's possible to develop a tolerance to caffeine and stimulants. One can always take a break from caffeine and stimulants every once a while to make sure we continue to see the best results from use. Make sure to add up the caffeine in any supplements you take as well as caffeinated drinks as part of your daily total.
WHY NOT JUST DRINK A CUP OF COFFEE?
Simply, the cost of supplementing with pills is more affordable in comparison to a cup of java. It's also easier to get in your caffeine intake anywhere, just throw a bottle in your gym bag and you will always have it for your next big training session!
Caffeine has been suggested in accelerating fat-loss, maximizing energy, increase performance in aerobic and anaerobic events, and works in synergy with other substances such as choline and acetyl l-carnitine (ALCAR).But obvious, Caffeine is primarily used as a power and energy accelerant! It's perfect to super energize our body for powerful workouts. This fast-acting substance delivers the right molecular structure to our energy systems for maximum energy and power output.
How It Works?
Maximize your time in the gym and tackle any workout with Vitaminhaat 100% Caffeine. If you need a quick energy boost for a workout, this powerful formula is just right for you. Featuring 200mg of caffeine in every serving, you are sure to receive a quick energy boost to help you conquer those work out goals.
Who Should Use It?
Vitaminhaat 100% Caffeine is perfect for individuals looking to put the fatigue behinds and get quick charged with energy boost and enhanced mental focus. Trusted by athletes, there are no frills attached.
Clean and Powerful Formula
Containing 200mg of pure and potent caffeine, it's a suggested dosage for the competition, plus there's 25% more servings per bottle. Not only can you count on a quick energy boost and increased mental focus, but Vitaminhaat 100% Caffeine can also help to fight fatigue and elevate alertness.