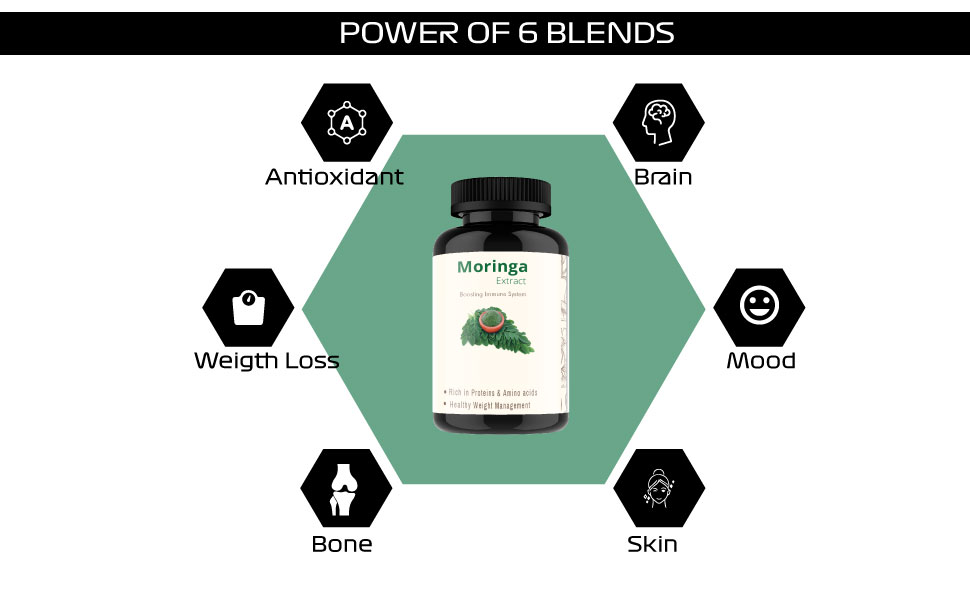 Moringa : An exceptional "Superstore of Nutrients" with rich store of Antioxidants.
Moringa is a plant that has been used for its health benefits for thousands of years in Indian sub-continent & is beginnings to gain more popularity as 'SUPERFOOD' for its High Nutrition Value and Super rich Anti-inflammatory, tissue-protective antioxidant properties among many other health benefits. Vitaminhaat Moringa weight loss formula - MORINGA OLEIFERA 1000MG Per Serving - moringa diet pills - 1 Bottle (75 Capsules). Moringa Supports bones health.Moringa keeps your Digestive System Healthy.
Moringa may prescribe in such medical conditions as:
Cancer, diabetes, anemia, asthma, arthritis and other joint pain, constipation, stomach pains, diarrhea, chronic headaches, heart problems, including high blood pressure, kidney stones, fluid retention, thyroid disorders, bacterial, fungal, viral infections, low sperm count etc.
Weight loss arm shaper - MORINGA OLEIFERA 500MG - moringa diet pills - 1 Bottle (75 Capsules)
BRAIN SUPPORT: As a high protein food and a rich source of the amino acid tryptophan, moringa benefits neurotransmitter functions, including those that produce the "feel good" compound serotonin. Moringa is also rich in antioxidants and compounds that may improve thyroid health. Research studies have shown that supplementation with its extracts has the potential to alter brain monoamines like norepinephrine, serotonin, and dopamine.
MOOD SUPPORT: One of the many health benefits of moringa is its ability to improve overall mood. Some individuals who have depression or other mental conditions may benefit from adding this impressive plant to their diet. The vitamins and antioxidants in moringa work together to stabilize the neurotransmitters in the brain. This includes serotonin, noradrenaline, and dopamine – all of which are essential to mood control.
WEIGHT LOSS: People taking Moringa leaf extract and leaf powder often report weight loss. This beneficial effect could be due to many factors. The anti-inflammatory and diuretic effect helps reduce water retention. The high fiber content reduces fat absorption in the gut. Also, since it is known to decrease inflammation it also helps with weight loss through proper digestion.
SKIN SUPPORT: Moringa contains natural antibacterial and antifungal compounds that protect the skin from various forms of conditions. Some of the common ways moringa is used on the skin include: reducing athlete's foot, eliminating odors, reducing inflammation associated with anything from acne to some causes of itchy discomfort.