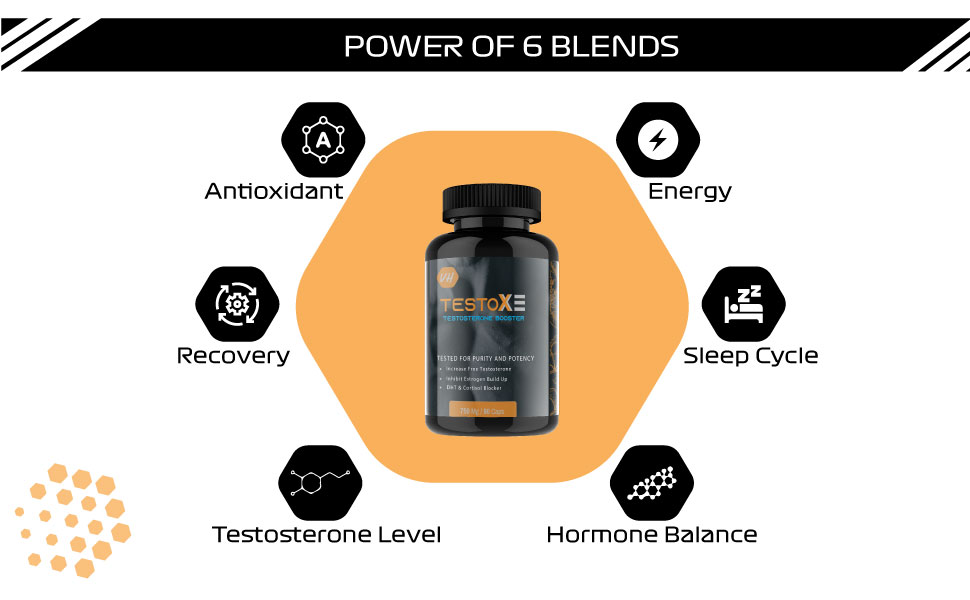 Testoxe Testosterone Booster
Testosterone booster capsules to develop more muscle and assist to build up your power and effort ranges, particularly while blended with a nutritious diet and secure workout regime. VitaminHaat Testoxe testosterone booster contains all natural ingredients.
Increases Total and Bioavailable Free Testosterone
A daily supplement that naturally increases testosterone levels, can help you build lean, dense muscle while helping to melt away fat.
To Gain Muscle and Strength
VitaminHaat Testoxe contains a potent, biologically active standardized extract. It helps to increases the body's ability to gain muscle and strength.
Maximize Power and Stamina
More testosterone in your system provides the extra push you need to perform at your peak during your toughest workout sessions. You'll perform with more stamina when you need it most. Build Lean Muscle Mass
By naturally raising your levels of free testosterone, it improves performance to help sculpt lean muscle. Increase muscle mass and get the results you haven't been able to attain with your regular workouts in the gym.
Optimizes male performance
Assists muscle growth
Enhances energy, focus and strength
Improves circulation and physical performance
The Science behind Vitaminhaat Natural Pre Hormone Support Formula TESTOXE by vitaminhaat is a complete formula. It's a Pre Hormone booster capsule which helps in improving stamina. It's complete coverage of 360 degrees to support the key factors necessary to boost low Pre Hormone levels and increase stamina, strength, drive and lean muscle naturally. TESTOXE 14 active ingredients work through multiple modes of action to support hormones that are shown to produce Pre Hormone to help you perform at your best. Pre Hormone booster helps in balancing hormones and maintaining Higher Energy Levels as well as Healthy Libido.
LOOK BETTER,
FEEL BETTER,
PERFORM BETTER
Pre Hormone is truly the alpha hormone. This is what differentiates the men from the boys. Healthy Pre Hormone levels are most critical for guys trying to build muscle mass, drop body fat, boost in strength and gain that desired competitive edge.