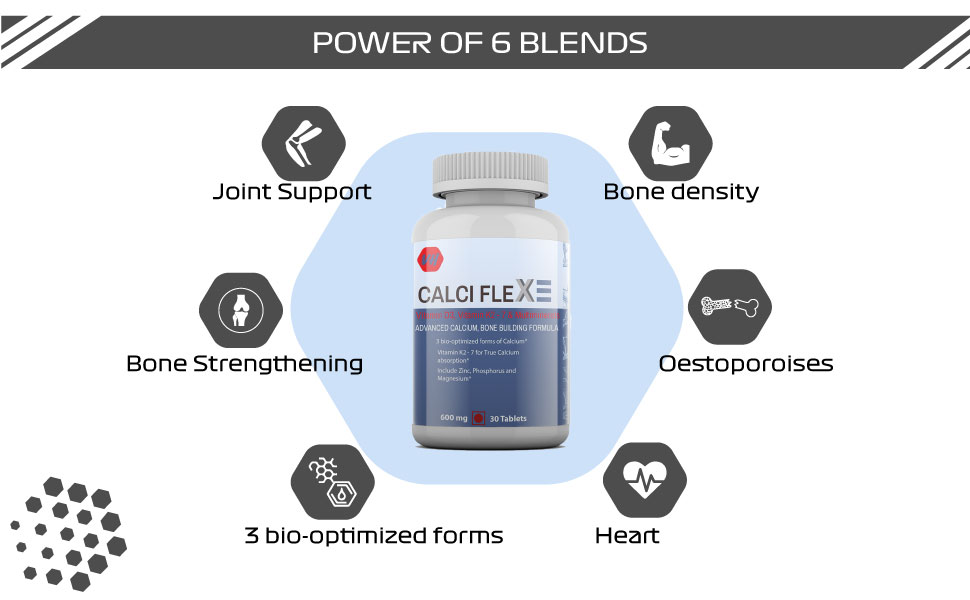 HIGHLY ABSORBABLE CALCIUM :- Calciflex Calcium Citrate Malate (CCM) in VitaminHaat Calcium is an easily absorbable and highly bioavailable form of Calcium. Vitamin D helps the body absorb Calcium better and reduces the rate of loss of bone density (osteoporosis).
MULTIMINERAL NUTRITIONAL SUPPLEMENT :- VitaminHaat Calciflex Calcium tablets also include Magnesium, Zinc, Vitamin D3 and Triple Calcium to enhance bone strength, muscle strength and joint health.
ENHANCES BONE & JOINT HEALTH :- Calcium with Vitamin D3 in VitaminHaat Calcium is required for the maintenance of bones and joints. K2-MK7 and Vitamin D3 help improve joint health by improving cartilage synthesis and prevent articular cartilage degeneration.
MUSCLE STRENGTH :- Calcium helps in muscle contraction and muscle building. VitaminHaat Calcium supplements also include Zinc which aids in muscle protein synthesis, a process by which consumed protein becomes muscle.
GOODNESS OF ZINC & MAGNESIUM :- Magnesium is required for high bone mineral density to reduce the risk of bone fractures and osteoporosis. Zinc is needed for bone regeneration.