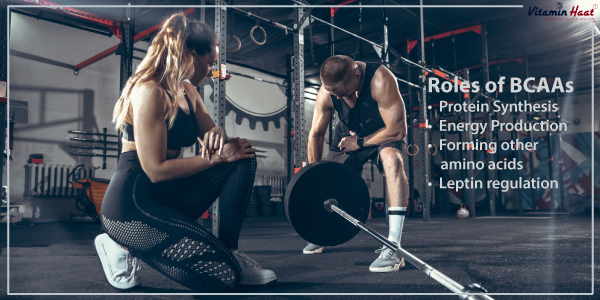 BCAAs play many roles:
Protein Synthesis
Energy Production
Forming other amino acids (alanine and glutamine)
Leptin regulation
Protein Synthesis
Branched-chain amino acids can increase muscle protein synthesis. This makes them both anabolic (muscle building) and anti-catabolic (protect against muscle damage).
Muscle protein synthesis is when amino acids combine to form muscle tissue. Protein synthesis stimulates insulin production, which allows blood sugar to be taken up by the muscle cells and used as energy. This insulin production promotes amino acid uptake by the muscle.
Energy Production
Amino acids are categorized as glucogenic, ketogenic, or a combination of both. A glucogenic amino acid can be used to make glucose through gluconeogenesis. A ketogenic amino acid makes acetyl-CoA, a fatty acid precursor.
Leucine is completely ketogenic, valine is completely glucogenic, and isoleucine is both glucogenic and ketogenic. Valine and isoleucine can both be used for glucose production.
Leucine is especially powerful for energy production. It can provide skeletal muscle with a high amount of ATP. ATP is a molecule that moves energy to cells for muscle contraction (among other jobs).
To meet the increased demand for energy during exercise, the body breaks down muscle tissue to use its BCAAs. By taking extra BCAAs during exercise, you can meet the increased demand without losing your gains. This helps maintain energy and glucose levels.[4]
Formation of Alanine and Glutamine
The human body's need for alanine and glutamine increases during exercise. It is met by amino acids from muscle protein breakdown.5 Increased breakdown of protein means loss of muscle mass, which no athlete wants. By supplementing with branched-chain amino acids, you can get the materials for both alanine and glutamine from somewhere other than your biceps.
Intense weight training is a highly catabolic condition. Glycogen stores are being rapidly depleted and the liver must synthesize glucose by a conversion of L-alanine to make more energy. BCAA supplementation can help maintain the levels of alanine you need to exercise.
Supplementing with BCAA-enriched drinks can also help the body make the amino acid glutamine inside skeletal muscle. Glutamine levels inside muscle govern protein synthesis and nitrogen balance, and therefore muscle mass gain.
Glutamine is also a powerful cell volumizer. An increase in cell volume, also called cell swelling, stimulates anabolism and inhibits catabolism. In addition, glutamine is a "nitrogen shuttle" between organs, and provides fuel for cells of the immune system and intestines.
Leptin Regulation
Intake of leucine-enriched supplements stimulates expression of the hormone leptin. Leptin is involved in the regulation of metabolism, weight, and appetite.
Leptin secretion is linked with body-fat levels; higher body fat is associated with higher leptin secretion and lower body fat is associated with lower leptin levels. When you follow a calorie-restricted diet for fat loss, the amount of leptin you secrete decreases, which makes you "crave" food in an attempt to bring your body-fat level back up to where the body is comfortable (known as the body fat "set point").
Leucine has the ability to activate leptin expression and will cause the body to think it is "fed" or receiving adequate calories, which will keep things running smoothly (specifically your metabolism).
Can Stacking BCAAs With Other SupplementsIdeal ?
BCAAs when combined with other supplements can make your workouts even better.
Protein synthesis is partly controlled by mTOR, which senses ATP and amino-acid levels, more specifically leucine levels. mTOR is activated when Branched chain amino acids are abundant and is also activated when ATP levels are high. BCAAs and ATP activate mTOR through a specific mechanisms.
When mTOR is activated (high ATP levels sensed) protein synthesis is increased and when mTOR is suppressed (low ATP levels are sensed) protein synthesis is slowed.
Stacking BCAA supplements with other supplements, that enhances ATP levels will lead to an increased activation of mTOR, and therefore protein synthesis.
Our aim is to keep ATP levels at elevated levels, while working out. To get so, we must supply the needed nutrients before and after the workout to keep ATP levels elevated and our bodies primed for accelerated growth.
Creatine
Creatine is used to regenerate ATP, the body's main source of energy. Skeletal muscle has a limited storage of creatine in the body. Supplementing with creatine increases your ability to form ATP and therefore increases the available fuel and energy for exercise. And, keeping ATP levels high by supplementing with creatine increases protein synthesis through mTOR activation.
Citrulline Malate
Stacking a serving of citrulline malate also leads to increased ATP production. According to a 2002 study, 6 grams of CM a day helped people to be less fatigued from exercise and to produce over 30 percent more ATP.
References
Layman, D. K. (2003). The role of leucine in weight loss diets and glucose homeostasis. The Journal of Nutrition, 133(1), 261S-267S.
Holeček, M. (2002). Relation between glutamine, branched-chain amino acids, and protein metabolism. Nutrition, 18(2), 130-133.
Houston, M. E. (2001). >Biochemistry Primer for Exercise Science. Human kinetics.
van Acker, B. A., von Meyenfeldt, M. F., van der Hulst, R. R., Hulsewé, K. W., Wagenmakers, A. J., Deutz, N. E., ... &Soeters, P. B. (1999). Glutamine: the pivot of our nitrogen economy?Journal of Parenteral and Enteral Nutrition, 23(5_suppl), S45-S48.
Häussinger, D., Gerok, W., Roth, E., & Lang, F. (1993). Cellular hydration state: an important determinant of protein catabolism in health and disease. The Lancet, 341(8856), 1330-1332.
Häussinger, D. (1996). The role of cellular hydration in the regulation of cell function. Biochemical Journal, 313(Pt 3), 697.
MacLean, D. A., Graham, T. E., &Saltin, B. (1994). Branched-chain amino acids augment ammonia metabolism while attenuating protein breakdown during exercise. American Journal of Physiology-Endocrinology and Metabolism, 267(6), E1010-E1022.
Blomstrand, E., Hassmén, P., Ek, S., Ekblom, B., &Newsholme, E. A. (1997). Influence of ingesting a solution of branched‐chain amino acids on perceived exertion during exercise. ActaPhysiologica, 159(1), 41-49.
Meijer, A. J., &Dubbelhuis, P. F. (2004). Amino acid signalling and the integration of metabolism. Biochemical and Biophysical Research Communications, 313(2), 397-403.
Goldberg, A. L., & Chang, T. W. (1978, July). Regulation and significance of amino acid metabolism in skeletal muscle. In Federation Proceedings (Vol. 37, No. 9, pp. 2301-2307).
Goto, M., Miyahara, I., Hayashi, H., Kagamiyama, H., &Hirotsu, K. (2003). Crystal structures of branched-chain amino acid aminotransferase complexed with glutamate and glutarate: true reaction intermediate and double substrate recognition of the enzyme. Biochemistry, 42(13), 3725-3733.
Riazi, R., Wykes, L. J., Ball, R. O., &Pencharz, P. B. (2003). The Total Branched-Chain Amino Acid Requirement in Young Healthy Adult Men Determined by Indicator Amino Acid Oxidation by Use of l-[1-13C] Phenylalanine1. The Journal of Nutrition, 133(5), 1383-1389.
Sapir, D. G., & Walser, M. (1977). Nitrogen sparing induced early in starvation by infusion of branched-chain ketoacids. Metabolism-Clinical and Experimental, 26(3), 301-308.
Stepnick Gropper, S., &Plyler Johnson, A. (1994). Metabolic Effects of Ingestion of L-Amino Acids and Whole Protein. Journal of Nutritional Medicine, 4(3), 311-319.
Mero, A. (1999). Leucine supplementation and intensive training. Sports Medicine, 27(6), 347-358.
Mero, A., Pitkänen, H., Oja, S. S., Komi, P. V., Pöntinen, P., &Takala, T. (1997). Leucine supplementation and serum amino acids, testosterone, cortisol and growth hormone in male power athletes during training. The Journal of Sports Medicine and Physical Fitness, 37(2), 137-145.
Shimomura, Y., Murakami, T., Nakai, N., Nagasaki, M., & Harris, R. A. (2004). Exercise promotes BCAA catabolism: effects of BCAA supplementation on skeletal muscle during exercise. The Journal of Nutrition, 134(6), 1583S-1587S.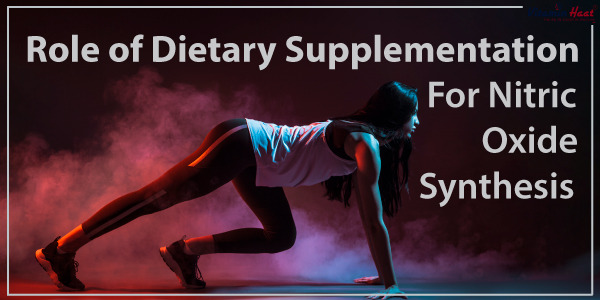 The role of nitric oxide and control of skeletal blood flow is the primary issue generally addressed with various proposed nutritional supplements.
read more